We provide professional NAATI certified translation services for Gold Coast (QLD), with a 100% acceptance guarantee on all document translations required for immigration to Australia. Most personal documents are translated by certified translators within 1-2 days, and express postage option is available.
What you will get for certified document translations
Certified document translations will contain the NAATI accredited translator's stamp and signature. If the translation is for overseas, we can also provide an official cover letter for your translations and certification stamp with signature from the company representative.
Certified Document Translations for Gold Coast
Apprenticeship certificate translations
Auditor's report and financial report translations
Certificate of good conduct translations
Coroner report translations
Email translations
Employment reference translations
Export permit translations
Identity card translations
Import permit translations
Journeyman certificate translations
Letter and card translations
Master tradesman certificate translations
Migration document translations
Motorcycle licence translations
Name-change certificate translations
Penal clearance certificate translations
Power of attorney translations
Property title, deeds and transfers
Receipts and Invoice translations
Resume translations
Statutory declaration translations
Technical manuals or instruction booklet
Visa document translations
Urgent or fast translation services
About Gold Coast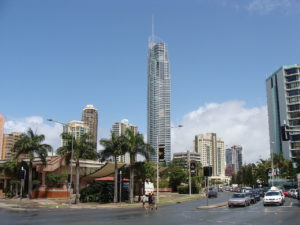 Gold Coast is a coastal city in South East Queensland on the east coast of Australia. It is the second most populous city in the state, the most populous non-capital city, part of the sixth most populous urban area in the country, and part of the largest cross-state metropolitan area in Australia. The city's northernmost point at Ormeau[citation needed] is located 42 kilometres south-east of the Brisbane central business district, and the metropolitan area extends south along the coast to Tweed Heads, New South Wales. The Gold Coast metropolitan area converges with that of Greater Brisbane, forming part of an urban conurbation of over 3 million people.
The first settlement in what is now South East Queensland was as a penal colony at Redcliffe. The Gold Coast region remained largely uninhabited by Europeans until 1823 when explorer John Oxley landed at Mermaid Beach. The hinterland's red cedar supply attracted people to the area in the mid-19th century. Later in 1875, Southport was surveyed and established and grew a reputation as a secluded holiday destination for wealthy Brisbane residents.
The Gold Coast region grew significantly after the establishment of the Surfers Paradise hotel in the late 1920s. The area boomed in the 1980s as a leading tourist destination and in 1994, the City of Gold Coast local government area was expanded to encompass the majority of Gold Coast's metropolitan area, becoming the second most populous local government area in Australia after the City of Brisbane. Gold Coast is today a major tourist destination with its sunny subtropical climate, surfing beaches, canal and waterway systems, its high-rise dominated skyline, theme parks, nightlife, and rainforest hinterland, making tourism one of its most significant industries. Gold Coast will host the 2018 Commonwealth Games.
For fast document translation services in Gold Coast or anywhere else in Australia, submit your documents via our form for a quick quote.