Jakarta NAATI Translation Services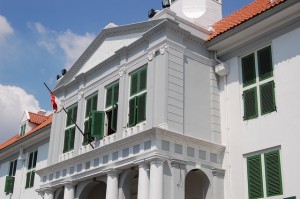 We provide fast document translation services in Jakarta. Many of our clients are pleasantly surprised at how easy it is to submit their documents from the comfort of their homes. Submit your documents online for a quick quote, pay securely online and receive the certified document translations within 48 hours.
If you not based in Australia and need certified translations for online (immigration / school enrollment) submission, we are able to provide electronic copies of the NAATI translator certified translations by email.
Jakarta Translator Services
Financial Translation Services for Jakarta
Examples of documents we translate:
Account Books
Accounting Rules and Regulations
Annual Reports
Asset Appraisal Reports
Auditor's Reports
Claims and Invoice Translation
Financial Accounting
Financial Products
Financial Statements
Fund Fact Sheets
Mergers and Acquisitions
Monthly Fund Reports
Insurance Claims Reports
Insurance Policies
Investment Write-ups
Investor Updates
IPO Advertisements
IPO Prospectus
Receipts Translation
Translation for Book-keeping
Personal Document Translation Services for Jakarta
Birth certificate translation
ID and passport translation
Marriage certificate translation
Divorce certificate translation
Death certificate translation
Diploma and degree translation
Academic transcript translation
Driving license translation
Bank statement translation
Company record translation
Adoption papers translation
Legal Translation Services for Jakarta
All our legal translators are senior translators with BA or MA qualifications, with more than 10 years' experience in translation. Most of our translators also hold formal translation accreditation separate to their university qualifications.
Through the years, we have built a core team of trusted translators and removed the less ideal candidates, based on qualities such as honesty, meticulousness and positive work ethics. With this, we have the confidence to support our clients with quality translation delivery.
Legal Contract Translation
Document translation for Banking Finance and Securities
Document translation for Civil Litigation and Arbitration
Document translation for Conveyancing and Bank Loan Application
Monetary transaction records translation
Inventory and accounts translation
Business Proposals and Merger Report Translation
Intellectual Property translation
Translate Wills and Trusts
Death Certificate Translation
About Jakarta
Jakarta, Indonesia's huge capital, sits on the northwest coast of the island of Java. A historic mix of cultures – Javanese, Malay, Chinese, Arab, Indian and European – has influenced its architecture, language and cuisine. The old town, Kota Tua, is home to Dutch colonial buildings, Glodok (Jakarta's Chinatown) and the old port of Sunda Kelapa, where traditional wooden schooners dock.
Located on the northwest coast of Java, Jakarta is the country's economic, cultural and political centre, and with a population of 10,075,310 as of 2014. The official metropolitan area, known as Jabodetabek (a name formed by combining the initial syllables of Jakarta, Bogor, Depok, Tangerang and Bekasi), is the second largest in the world, yet the metropolis's suburbs still continue beyond it. Its unofficial built-up (metropolitan) area covers Bogor, Tangerang, Bekasi, Karawang, Serang, Purwakarta, Sukabumi and Subang regencies (123 districts) including also Tangerang, Bekasi, Tangerang Selatan, Depok, Serang and Cilegon Municipalities was home to 30,214,303 inhabitants as of 2010 census.
Established in the fourth century, the city became an important trading port for the Kingdom of Sunda. It was the de facto capital of the Dutch East Indies (known as Batavia at that time). Today, the city has continued as the capital of Indonesia since the country's independence was declared in 1945. The city is currently the seat of the ASEAN Secretariat as well as houses important financial institutions such as the Bank of Indonesia, the Indonesia Stock Exchange, and the corporate headquarters of numerous Indonesian companies and multinational corporations. Jakarta's business opportunities, as well as its potential to offer a higher standard of living, attract migrants from all over Indonesia, making the city a melting pot of many communities and cultures.
Jakarta is listed as an alpha-global city in the 2012 Globalization and World Cities Study Group and Network (GaWC) research. Based on survey by Brooking Institute, in 2011 economic growth in Jakarta ranked 17th among the world's 200 largest cities, a jump from its 2007 ranking of 171. Jakarta has grown more rapidly than Kuala Lumpur, Beijing and Bangkok.
Get fast document translation services other cities in Asia – Singapore translation services, Kuala Lumpur translation services, Bangkok translation services and Surabayatranslation services.